Saint Bernard Puppies for Sale near Colby, Wisconsin, USA, Page 1 (10 per page)
Saint Bernard Litter of Puppies for Sale near Iowa, DURANGO, USA. ADN-235940. Mileys Babies
Mileys Babies
Date listed: 01/11/2021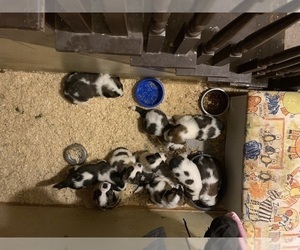 Litter of 10
Breed:

Price:

$1,200*

Nickname:

Litter of 10

Gender:

Male(s) and Female(s)

Age:

12 Weeks Old

Location:

USA DURANGO, IA, USA

Distance:

Aprox. 163.8 mi from Colby
Mom, Miley is beautiful has papers to be akc I just haven't done them yet. Dad, Beethoven is a beautiful specimen of a male Saint Bernard he is not papered but a purebred. they...
Saint Bernard Puppy for Sale near Wisconsin, Marengo, USA. ADN-06047754572. Diesel
Diesel
Date listed: 01/01/2021
Breed:

Price:

$3,000

Nickname:

Gender:

Male

Age:

Baby

Location:

USA Marengo, WI, USA
Posted Breed: Saint Bernard. This boy is going to be BIG. The sire is approximately 170 lbs and the dam is just over 140 lbs. At 5 weeks hes is a little over 19 lbs already. He is...
Breed Mixes of Saint Bernard
Similar Dog Breeds for Saint Bernard
Browse thru Saint Bernard Puppies for Sale near Colby, Wisconsin, USA area listings on PuppyFinder.com to find your perfect puppy. If you are unable to find your Saint Bernard puppy in our Puppy for Sale or Dog for Sale sections, please consider looking thru thousands of Saint Bernard Dogs for Adoption. Also, be sure to check the Saint Bernard Dog Breeder listings in our Dog Breeder Directory, which feature upcoming dog litter announcements and current puppies for sale for that dog breeder. And don't forget the PuppySpin tool, which is another fun and fast way to search for Saint Bernard Puppies for Sale near Colby, Wisconsin, USA area and Saint Bernard Dogs for Adoption near Colby, Wisconsin, USA area. - also known as: St. Bernhardshund, Bernhardiner, Alpine Mastiff