Bull Terrier Verified Dog Breeders near Taylor, Michigan, USA, Page 1 (10 per page)
Bull Terrier Dog Breeder near TAYLOR, MI, USA. SUBS-56792. El Camino Kennels Zachary Hampton
Member since: 12/16/2017
El Camino Kennels Zachary Hampton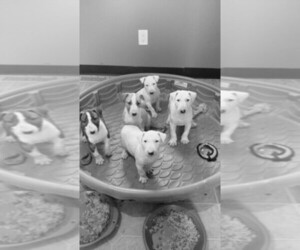 Breeds: Bull Terrier
USA TAYLOR, MI, USA
Distance: Aprox. 1.5 mi from Taylor
Description:
My name is Zachary Hampton and I am the owner and operator of El Camino Kennels. I am a hobby breeder of bully breeds. More specifically the English Bull Terrier &...
View more...
Bull Terrier Dog Breeder near JACKSON, MI, USA. SUBS-75120. House Bully
Member since: 04/30/2018
House Bully
Breeds: Bull Terrier
USA JACKSON, MI, USA
Distance: Aprox. 58.0 mi from Taylor
Stud service available
Description:
Dozer Risenhoover of House Bully is Akc registered. He has Champion Blood line. UTD on all vacs/dewormer/rabies. Heart tested, hearing tested, kidney tested. Dozer's birthday...
View more...
Similar Dog Breeds for Bull Terrier