Doberman Pinscher Verified Dog Breeders near Milwaukee, Wisconsin, USA, Page 1 (10 per page)
Member since: 04/18/2019
VON MILLER KENNELS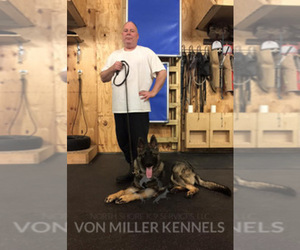 Breeds: Doberman Pinscher (+3)
Distance: Aprox. 54.2 mi from Milwaukee
Stud service availiable
Description:
IMPORTING AND BREEDING ONLY THE BEST QUALITY EUROPEAN WORKING LINES FOR THE PAST 26 YEARS ALL OUR DOGS COME WITH A 3 YEAR HEALTH GUARANTEE INCLUDING HIPS AND CONGENITAL...
View more...
Member since: 05/29/2018
Darlin Dobermans
Breeds: Doberman Pinscher
USA ONARGA, IL, USA
Distance: Aprox. 161.1 mi from Milwaukee
Stud service availiable
Description:
Doberman puppies born September 26, 2019 Ready for their new loving families November 19th, 2019. Both parents on site and are our fur family that stay in the house and go...
View more...
Member since: 11/23/2019
MarJay Doberman LLC
MarJay Dobermans breeds Doberman Pinscher's, in the Lake Odessa, MI area. We currently have 2 females and 1 stud. All of our dogs are our pets, not kennel dogs. We have another...
Breed Mixes of Doberman Pinscher
Similar Dog Breeds for Doberman Pinscher