Bernese Mountain Dog Puppies for Sale near Hatvan, Heves, Hungary, Page 1 (10 per page)
Bernese Mountain Dog Puppy for Sale near Heves, Hatvan, Hungary. ADN-603814. Charlie
Charlie
Date listed: 05/15/2023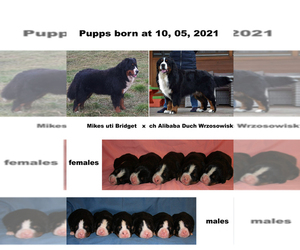 Chappy
tested potential show quality
Bernese Mountain Dog Puppy for Sale near Missouri, NORWOOD, USA. ADN-612284. Bernese pups
Bernese pups
Date listed: 05/30/2023
Litter of 4
Breed:

Price:

$1,200

Nickname:

Litter of 4

Gender:

Male(s) and Female(s)

Age:

3 Weeks Old

Location:

USA NORWOOD, MO, USA
These 4 bernese pups will have limited akc papers, dew claws removed, utd on shots and dewormer, and will have microchip. They are with children every day so are very family...
Bernese Mountain Dog Litter of Puppies for Sale near Indiana, BOSWELL, USA. ADN-603026. AKC Bernese Mt Dog Puppies
AKC Bernese Mt Dog Puppies
Date listed: 05/13/2023
Litter of 7
Breed:

Price:

$800

Nickname:

Litter of 7

Gender:

Male(s) and Female(s)

Age:

12 Weeks Old

Location:

USA BOSWELL, IN, USA
These puppies were born 3/7 by our female Fiona and male Luca. They are growing well and will be ready to go to their new, forever homes on May 2nd. If you're interested in...
Breed Mixes of Bernese Mountain Dog
Similar Dog Breeds for Bernese Mountain Dog
Browse thru Bernese Mountain Dog Puppies for Sale near Hatvan, Heves, Hungary area listings on PuppyFinder.com to find your perfect puppy. If you are unable to find your Bernese Mountain Dog puppy in our Puppy for Sale or Dog for Sale sections, please consider looking thru thousands of Bernese Mountain Dog Dogs for Adoption. Also, be sure to check the Bernese Mountain Dog Dog Breeder listings in our Dog Breeder Directory, which feature upcoming dog litter announcements and current puppies for sale for that dog breeder. And don't forget the PuppySpin tool, which is another fun and fast way to search for Bernese Mountain Dog Puppies for Sale near Hatvan, Heves, Hungary area and Bernese Mountain Dog Dogs for Adoption near Hatvan, Heves, Hungary area. - also known as: Berner Sennenhund, Bernese Cattle Dog